Nice Choice of Words.
"
Rumsfeld may widen abuse probe
" This is the headline for a link on MSN. Now do you see why I love that page? It sounds like Good Ole Rumsy is taking matters into his own hands, and the probes everyone else were using just didn't have enough girth. The actual headline on the MSNBC page isn't much better at "Rumsfeld may expand prison abuse probe". Go ahead Rumsy, expand it till your smiling, just don't pop the thing.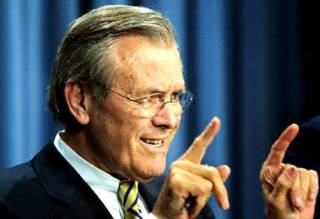 How much wider?